5 Small Group Session Package
Get a small taste of the action
Personal workout program created by a CPPS and ACE certified trainer, tailored to help you crush your goals

Small group 75 minute sessions at both the Three Storm Fitness gym and The Body Barn II*

Access your workouts and progress from anywhere with nearly any device, whether you're with me or not (yes, there's homework)

Your first package purchase includes a free 1-on-1 60 minute session to plan the attack on your fitness goals

Nutritional advice on demand (Rob is an ACE certified Fitness Nutrition Specialist)
Training Buffet!
NEARLY 50% SAVINGS!*
Up to 3 training sessions/week!

Access to train at the Three Storm Fitness gym during off hours (you'll receive your own keypad entry code)

Personal workout program created by a CPPS and ACE certified trainer, tailored to help you crush your goals

Small group 75 minute sessions at the Three Storm Fitness gym

Access your workouts and progress from anywhere with nearly any device, whether you're with me or not (yes, there's homework)

Your first package purchase includes a free 1-on-1 60 minute session to plan the attack on your fitness goals

Nutritional advice on demand (Rob is an ACE certified Fitness Nutrition Specialist)
*Based on three training sessions/week at $15
24/7 access to your workouts and training progress
Every Three Storm Fitness client gets access to a Trainerize account included with the purchase of their package.  Trainerize allows us build and schedule workout programs, and for you to view them anywhere you have an Internet connection.  The software comes available as an app for iPhones, iPads and Androids, and is accessible from virtually any Internet browser.
Can you only make it to one or two training sessions a week?  No sweat (actually, you will sweat).  We'll give you workouts that you can complete from home (or wherever you are), with whatever equipment and time you have available.  So, if you're headed on vacation and need some workouts for the beach (aren't you lucky?), let us know, and we'll put them together so you don't lose your progress while you're away.
Are you old school or simply afraid of technology?  No problem.  We'll show you how to use it.  And there's no need to go kicking and screaming; if you're so inclined, you can print off your workouts and track them the old fashioned way.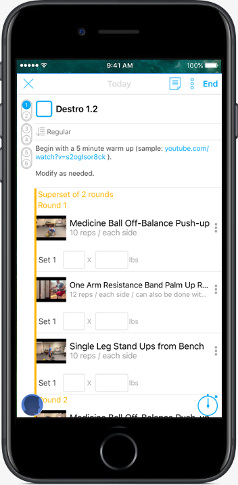 Monday
Three Storm Fitness Gym
7:00 AM, 9:00 AM, 5:15 PM, 6:30 PM
Tuesday
Three Storm Fitness Gym
5:15 PM, 6:30 PM
Wednesday
Three Storm Fitness Gym
7:00 AM, 9:00 AM, 5:15 PM, 6:30 PM
Thursday
Three Storm Fitness Gym
5:15 PM, 6:30 PM
Friday
Three Storm Fitness Gym
7:00 AM, 9:00 AM
Will my workouts have a lot of variety? I'm already bored.
In short, yes.  I also get bored.
Depending on where you are in your training, your workout program will cycle out every 3-5 weeks (and often in between cycles).  When the program stays fresh, so does your progress.
What's with only offering small group sessions?
First off, the small group sessions are super small (maximum of four participants).
Secondly, you save a ton of money, and still receive individual programming.  You'll also probably get more attention from your trainer than you want (I'll always catch you cheating).
Lastly, small groups are generally more fun.  You share the floor with other like-minded people, all showing up to put in work.  If all else fails, you get to gang up and hate on your trainer together!
How do I schedule a session?
Important: You need to be an existing client to schedule a session (and have already met for your initial 1-on-1 session).  If you schedule, and aren't a client, your reservation will be removed…but don't sweat it…I'll reach out to you, and we'll get you signed up proper.
Click here to start the scheduling process.
The training session I wanted isn't available. What gives?
There's a maximum of 4 training participants per session (in an effort to keep the "personal" in personal training).  Just pick another training time that fits your schedule.
Is there another way to schedule? A computer chased me down the street when I was a child and I've been terrified of them ever since.
I'm so sorry to hear that.  You're safe now.
Yes, there's an alternative.  You can text me with the session(s) you'd like to schedule, and I'll pen you in if they're available (I'll give you my number when you're no longer a stranger).
I'm old and weak, and my everything is broken. I can't work out, right?
Not only are you old and weak, but you're also wrong!  There is always something you can do to progress toward your goals.  Baby steps, baby!
There are some cases where we may refer you back to your doctor or a physical therapist, but once they give you the all clear, we'll be happy to make you sweat.
Why don't you offer weekend sessions? I hate relaxing!
At the moment, we're a one man shop (and I'm using the royal "we").  Weekends just don't work for "us".
Having said that, we're very future oriented, and plan to expand our trainer roster for weekend sessions as soon as possible (so we can become a literal "we").
In the meantime, your trainer will be happy to give you weekend workout assignments.  Don't you worry.
Where are your training locations?
The Body Barn II is located at 1467 Jackson Pike, Gallipolis, OH.
The exact location of the Three Storm Fitness Gym is very secret, and if I tell you, I'll have to kill you…with burpees.  I'll get you started though, it's on Arbuckle Rd, Gallipolis, OH (about 2 miles from O.O. McIntyre Park).  I'll give you the secret code (the address) when we talk.
I have an unpredictable schedule. What if I can only come to one session during some weeks?
The more sessions you can train with us, the better, however, getting in one workout with your trainer beats the heck out of none.  You can "spend" the sessions from your package however you want; just let us know ahead of time if you think you're going to miss a few, so we can give you the proper "homework".
Are the workouts that I do by myself charged against me?
Nope.  Only the small group sessions that you attend with your trainer are punched on your card.  Your homework "complimentary".